PIF Manager™
Easily generate PIFs for customers and receive PIFs from suppliers – all in one place.
The widely accepted Australian Food and Grocery Council's (AFGC) Product Information Form (PIF™) is a food industry tool used by companies across Australia and New Zealand to provide a wide variety of information about food products and ingredients in a single document that meets the information needs for legal and regulatory compliance.
The move from an Excel based form to an electronic Version 6 PIF streamlines the process of recording, reporting and sharing product information.
Imagine being able to manage, find and search all your PIFs in a single place – anywhere – anytime.
Bizcaps PIF Manager™ is a secure web-based portal and repository where you can easily manage the setup, storage, search and sharing of PIFs directly with your customers and suppliers.
As the first licensed online PIF portal solution incorporating the AFGC's Electronic Food Data System, PIF Manager™ supports food suppliers and their customers across Australia and New Zealand.
Comprehensive audit trail on every field and change logs support users with visibility and control of changes in updated PIFs (created and/or received).
Bizcaps is the only Australian-owned company licensed to provide a V6 PIF portal. Support for your system will be local.
PIF Manager™ pricing plans are simply based on the number of PIFs used throughout your business (created and/or received). Archived PIFs are stored but do not count in your PIF numbers. No gimmicks. No user-based fees apply at all (i.e. read only or full access).
PIF Manager™ is fully supported by our local team, built on our FlowScribe master data management platform, and ships with pre-built integration using AFGC PIF XML messaging standards.
No matter how many PIFs you deal with, PIF Manager™ can be used for finished products as well as ingredients.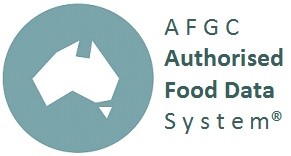 PIF Manager™ is a registered trademark of Bizcaps Software
PIF™ and ePIF™ are registered trademarks of the Australian Food & Grocery Council
Food Technology Disruption – what's next?
Dr Geoffrey Annison, Deputy Chief Executive at the Australian Food & Grocery Council (AFGC) and Professional Member of AIFST wrote in a recent article for Food Australia magazine: "…change has been the only constant in food production during the modern era – but the rate of change is accelerating. For food companies, their management of information will be paramount to ensuring compliance with all regulations."  
Find out how the AFGC sees modern information technologies, through the PIF, provide solutions to allow disruption in a way which supports industry to flourish and meet the needs of their consumers.
No job too small
Only got a few PIFs?
Did you know that Bizcaps Service Bureau is able to help you create V6.0 PIFs and stay up-to-date with all ANZ regulatory requirements?
You simply fill in the version 6 online PIF, or we can load your Excel V5 PIF with all your product information and convert it to the latest online PIF version – for you to securely access and complete – before sharing it electronically with your customers.
*This service is available for companies with up to 10 PIFs.
Call us on 61 2 9252 7533 to find out more.
Keep up with the latest PIF V6 developments
Electronic PIFs are on the rise, improving productivity and accuracy across the food industry.
With our regular PIF V6 Update, you will stay ahead of the changes and get all the info you need (bite-sized) delivered direct to your inbox.
PIF Manager™ allows you to:
Control the creation, collection, maintenance and exchange of PIFs in one place.
Easily convert existing PIF V5 format into new online PIF V6.
Connect directly with FoodWorks nutrition software
Quickly report on all certificates expiring soon and all aged PIFs requiring a review.
Save time with bulk updates and not having to manually retype default information.
Extract all PIF data into MS Excel.
Use a single portal for AFGC authorised food data system i.e. PIF, FIF and PaSS
Find your PIFs faster with powerful online searching e.g. approved PIFs and/or "in progress".
Comply with the revised ANZ Food Standards code and Country of Origin labelling requirements.
Establish traceability of goods and their components across the supply chain.
Improve product specification information accuracy and enhanced customer experience.
Talk to us about choosing the right tool for you.
Fill in the form or call us on +61 2 9252 7533
Leading food, ingredient and flavour organisations trust Bizcaps